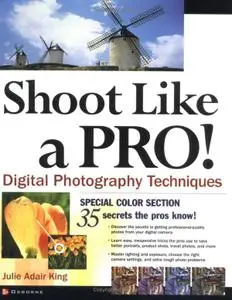 Book Description
Produce the kind of images that would otherwise demand a professional photographer or darkroom-;or both. Through a series of tutorial projects, author Julie Adair King shows readers how to light shots, choose the right camera settings, use camera accessories and photographic software, and much more. You'll learn step-by-step to use your existing digital camera for professional results. Set up a home studio, create a 360-degree panoramic image, learn low light and action photography, work in black and white, and adopt many other professional techniques.
From the Back Cover
Special color section: 35 secrets the pros know!
Take your digital photography to the next level with help from this wonderfully written guidebook. Best-selling author Julie Adair King shows you the secrets that professional photographers use to capture memorable portraits, spectacular nature and travel images, and eye-catching product shots. You'll find out how to take full advantage of your digital camera's features, from exposure controls to resolution options, and learn techniques that will help you get a perfect picture every time–even in difficult lighting and other challenging situations!
Discover the best camera settings to use for different photographic projects
Gain control over exposure, focus, color, and contrast with traditional filters and digital tools
Find out how to take better close-ups, panoramic images, nighttime pictures, and action shots
Improve your pictures with easy lighting techniques
Learn the secrets to shooting glass, metal, and other reflective subjects
Build a home or office studio using affordable alternatives to high-priced professional equipment
Save money by taking portraits and product shots yourself instead of hiring a professional photographer
Learn to identify beautiful compositions in everyday scenes
Make great, long-lasting prints and prepare pictures for a Web page or an online album
About the Author
Julie Adair King (Indianapolis, IN) is the best-selling author of numerous popular books about digital photography and image-editing, including Digital Photography For Dummies, John Wiley and Sons, first published in 1997; (the fourth edition published September 2002), Adobe PhotoDeluxe For Dummies, IDG Books Worldwide, 1998, and Adobe PhotoDeluxe 4 For Dummies, 2000. King has been a guest on many nationally syndicated and local radio and televisions shows, including The Vicki Lawrence Show, Computer America, and ZDTV's nightly news report. In addition, she has been interviewed by local newspapers as well as national publications such as Home Office Computing, Cosmopolitan, and Mademoiselle.
McGraw-Hill Osborne Media ISBN: 0072229497
http://rapidshare.de/files/25428214/SLAP_cobra_07-10-2006_pdf_-LiB.rar
You are welcome to download From OxyShare:
http://www.oxyshare.com/get/65...a_07-10-2006_pdf_-LiB.rar.html