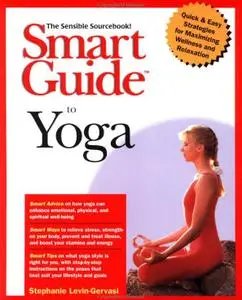 Stephanie Levin-Gervasi, «Smart Guide to Yoga»
Wiley | ISBN: 0471356484 | August 1999 | CHM | 1,09 Mb | 220 Pages
Smart Advice on how yoga can enhance emotional, physical, and spiritual well-being.. Perfect for beginners, focuses on important aspects of yoga, straightforward terms, easy to understand.
Book Description:
This is a simple, crisp introduction to yoga. First you get a brief history of yoga and descriptions of several different practices. Then the book focuses on pranayama, the science of breathing, with instructions for correct breathing and illustrations of several breathing exercises. Next you learn 35 hatha yoga asanas (poses) and the Sun Salutation sequence, all well explained and illustrated with photographs.
A helpful chapter is "Finding a Class and Developing Your Yoga Practice," with checklists for finding the right class and the right teacher, and tips for practicing at home. Other chapters explain the seven chakras (energy centers), meditation, yoga for women, yoga for men, and how yoga affects particular health problems.
The clean layout makes for easy reading or skimming, with larger print than most books, and boxed tips. A nice feature is the "Smart Source" boxes of additional resources. Smart Guide to Yoga is not packed with a lot of information per page, but it's an easy way to jump into this subject and learn the basics without getting immersed in more information than you want. –Joan Price
About the Author:
Stephanie Levin-Gervasi is a writer specializing in health and family matters. She is the author of
The Back Pain Sourcebook
and has practiced yoga for more than twenty years. She lives in San Francisco.