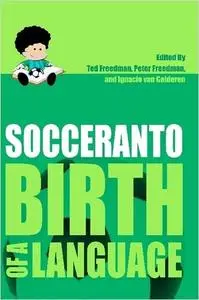 Ted Freedman, Peter Freeman, and Ignacio van Gelderen, «Socceranto»
PDF | 0,8 Mb uncompress | 84 pages | Publisher: Ignacio van Gelderen | Year: 2006 | Language: English
The 32 countries competing in the World Cup share 18 official languages between them. So, how are players and officials meant to communicate? The answer is for soccer to adopt a shared international language. So argue the inventors of just such a language, in a book titled "Socceranto: Birth Of A Language", which lists words, phrases and principles of the new language.
"Socceranto: Birth Of A Language" is part dictionary and part phrasebook. It is the work of an international team of fans led by an Argentinian-American student and an English schoolboy.
"Things are all very well when, say, Ecuador plays Costa Rica or Ghana meets the USA", says Ted Freedman, 16, the England fan who co-edited the book. "But what about when Japan plays Brazil or Ukraine meets Saudi Arabia?"
The name "Socceranto" comes from the word "soccer"–a 19th-century offshoot of the term, "Association Football"–and Esperanto, the language invented in 1887 by Ludwig Zamenhof, that is the best-known previous attempt to invent an international language.
"Soccer," adds Ignacio van Gelderen, 21, Freedman's co-editor, "has become the most international game in the world and the most globalized industry."
Socceranto draws most on six core languages–those of each of the seven nations to have won the World Cup to date: Portuguese (Brazil), Spanish (Argentina and Uruguay), Italian, French, German and English.
It bases Socceranto words on both the names of famous players and on soccer slang and jargon, while also coining some brand new words:
maradona: n. a goal scored with illegal use of the hand. [Derivation: Diego Maradona who scored for Argentina against England in the 1986 World Cup by using his hand.
muller: n. goalscorer. [Derivation: Gerd Muller, the great German striker of the 1970s, who remains top scorer in World Cup history, with 14 goals.
fliegenfanger: n. a useless goalkeeper. [Derivation: German for "flycatcher" and so slang for a poor goalkeeper.
rono – n. a (non-Brazilian) player of Brazilian flair or skill; an honorary Brazilian.
[Derivation: Names of Brazil stars, Ronaldinho and Ronaldo.
"This is just the launch of a long-term project," says van Gelderen. "Or, as we say in Socceranto, it's "early doors" (early in the game). We hope that Socceranto will develop in time into a richer, more international, more distinct and fully fledged language. "And that this World Cup will help."