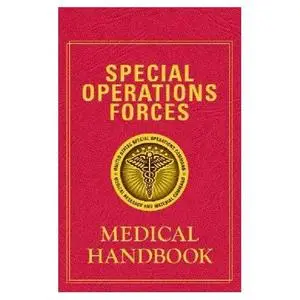 Developed as a primary medical training resource and field guide for the Special Operations Command, the Special Operations Forces Medical Handbook defines the standard of health care delivery under adverse and general field conditions. It emphasizes acute care in all its forms (blunt and penetrating trauma, poisonings, infestations, parasitisms, acute infections, hyper and hypothermia, high altitude and decompression sickness and much more) as well as general medicine and sanitation practiced under primitive conditions. It is the work of 80 contributors both from the military and civilian practice. In general topics are covered in a consistent two page format. It is heavily illustrated with color for quick identification of dermatologic conditions, insect bites and stings and exposure problems.
A little history- Close to 20 years ago the army put out the first Special Forces Medical handbook,meant for use by US Army Special Forces medics. The Special Forces, or "Green Beret" medics receive what is possibly the highest level of pre-hospital medical training in the world. They are probably the truest incarnation of the "remote medic", in that the whole concept of Special Forces is to go deep into guerilla territory, usually far from support or civilization and train indigenous groups to fight an enemy. The army realized that not only would the medics have to treat the battlefield wounds of themselves and their allies, but that they would often need to act as medical care for remote villages, doing everything from delivering babies to veterinary care of the family water buffalo. The green berets in Vietnam who operated with the Montagnard hill people are the classic example.
The original handbook was excellent- it covered just about everything in a concise format. However, it has become quite dated, the last edition being in 1982. The current version on CD-ROM is in an entirely different but equally as useful format. The CD-ROM edition includes 15 multimedia quicktime clips. If there is any shortcoming to the book, it is that there are really too few of these clips on the disk. The neuro exam clip alone is excellent. Although the authors may have felt that a medic would already have all the necessary knowledge and skills for many procedures, I still would very much have liked to see more procedures on video- for example various surgical knots, chest drain insertion, nerve blocks, etc.
Title:
Special Operations Forces Medical Handbook
Author:
by Col. Steve Yevich
ISBN:
1591610044
Number Pages:
680
Publisher:
Teton NewMedia
File Size
22.25mb
Password:
stockholm
http://rapidshare.de/files/26026676/1893441547.rar
Also below are the extra files that come with this one. Which are Ear, Nose and Throat; Evac; MEdCap Planning guide (all in one file)
File Size:
5.79mb
Password:
stockholm
http://rapidshare.de/files/26027577/1893441547-extra.rar