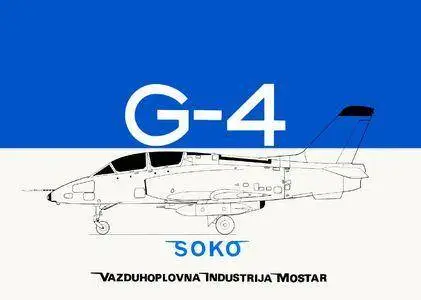 Soko G-4 Super Galeb
SOKO Mostar | 1983 | ISBN: N/A | English | 31 pages | PDF | 15.49 MB
The G-4 Super Galeb is a new-generation jet strike-trainer intended to replace the successful Soko Galeb/ Jastreb family in the conditions expected to prevail in mi­litary pilot training in the late eighties and the nineties. Through backed by extensive experience gained by its pre­decessor through seventeen years now in service with the Yugoslav Air Force and overseas, the Super Galeb is a com­pletely new, modern design, connected only by name and tradition to the G-2A Galeb, rather than being a derivative of the latter in a technical sense.
Increasing cost and complexity of modern combat air­craft and, consequently, of corresponding operational con­version types, as well as fuel economy considerations, ad­vocate the reduction of flying hours on operational conver­sion aircraft as far as possible. This has brought about a marked upward extension in the performance envelopes of modern training aircraft. The G-4 follows this trend, while avoiding over-sophistication and excessively demanding handling characteristics which would undercut its range of applicability at the low end of the scope of training missions. It thus represents a well-balanced compromise to economi­cally and efficiently cover the widest range of pilot training requirements.
After highly successful flight-testing of the prototype, the Yugoslav Air Force has placed a substantial order for the new G-4 Super Galeb strike-trainer aircraft.