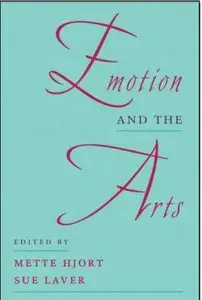 Mette Hjort, Sue Laver, "Emotion and the Arts"
Publisher: Oxford University Press, USA | 1997-09-04 | ISBN 0195111052 | PDF | 320 pages | 15.72 MB
The only work of its kind, this exciting collection assembles a number of analytically minded philosophers, psychologists, and literary theorists, all of whom seek to provide fine-grained accounts of critical problems having to do with emotion and art.
How best to explain emotions produced by works of art? What goes on when we feel emotion for an abstract art such as music? How is it that we can intelligibly feel emotion for persons and situations that we know are fictional? What is involved in our empathic experience of negative emotion through the art of tragedy?
A strongly interdisciplinary volume that captures the richness of current debates about the role of agency in human emotional response, this collection also considers the influence of culture on emotion and demonstrates that cognitivist and social- constructivist perspectives need not be antagonistic and may actually work together in a complementary way. Essays cluster under four rubrics–"The Paradox of Fiction", "Emotion and its Expression through Art", "The Rationality of Emotional Responses to Art", and "The Value of Emotion"–and together they address questions of emotion in film, painting, music, dance, literature, and theater.
With new work by leading thinkers in the field of aesthetics, and drawing upon state of the art scholarship from areas such as cognitive science, literary studies, and contemporary ethics, Emotion and the Arts is essential reading for those who study aesthetics, literature, theories of emotion, and the mind.