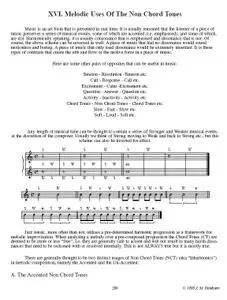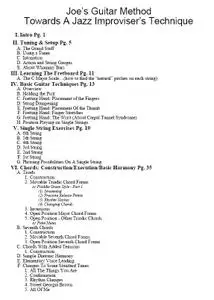 Joe GOLDSTEIN
Joe's Guitar Method - Towards A Jazz Improviser's Technique, 1998
PDF | 248 pages | Archive file size = 2.73 Mb | Original file size = 4.2 Mb
What it is, is a series of exercises and tips and a particular manner of introducing conceptual material that I
have been using, over many years, with my students at Mohawk College and with my private students at my
home. I have found that these particular exercises and this manner of presentation work quite well. I still use
many of the exercises myself when working on new material. I will be using these concepts for as long as I
continue to play the guitar. Many of my students seem to have found this approach useful too… The book is merely
aimed at helping your brain, your ears and your hands learn to hear some useful musical patterns, so that you
can learn to play what you hear, in real time, on the guitar, while you are hearing it. My intent is to help you
learn to hear things that you can not hear now and to enable you to play them on the guitar when you do hear
them.
http://rapidshare.de/files/22919056/JGoldst-jgm.rar
Книга для желающих стать джаз-гитаристами-импровизаторами.
No password