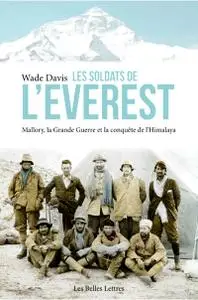 Wade Davis, "Les soldats de l'Everest : Mallory, la Grande Guerre et la conquête de l'Himalaya"
2016 | ISBN: 2251445633 | Français | EPUB | 576 pages | 3.4 MB
« Puissant et profond, émouvant et haletant, un chef-d'œuvre de littérature, d'histoire et d'espérance. » - The Times
« Magnifique… Impressionnant… Un récit saisissant. » - The Observer

Le 6 juin 1924, 7 000 m d'altitude : deux hommes quittent leur camp perché sur une vire de glace. Objectif : le sommet de l'Everest, encore jamais gravi.
On ne les reverra pas vivants. Avec George Mallory, âgé de 37 ans, le monde perd le meilleur alpiniste britannique de sa génération.
Qui sont ces hommes partis, quelques années après la Première Guerre mondiale, au coeur d'un Himalaya inconnu des cartes ? C'est ce que nous raconte Wade Davis, qui nous emmène de l'Angleterre aux Indes, des tranchées de 14-18 aux confins encore inexplorés du Tibet, des sables ensanglantés d'Irak et de Gallipoli aux sommets immaculés de l'Himalaya.
Intrigues diplomatiques entre la Grande-Bretagne et la Russie tsariste et bolchévique, négociations secrètes entre le Raj indien et le Dalaï-lama : l'aventure de l'Everest ne fut pas qu'un haut fait de l'alpinisme ; après une victoire militaire qui laissait les vainqueurs aussi exsangues que les vaincus, elle représenta, pour les rares soldats revenus vivants mais à jamais meurtris, et pour un pays qui avait perdu toute foi en lui-même, un puissant symbole d'espoir et de rédemption nationale.
Grâce à Wade Davis, nous découvrons ces hommes remarquables qui ont mené cette aventure à bien, anciens soldats pour la plupart, géographes, médecins, explorateurs, naturalistes et alpinistes. Ils ont parcouru à pied, à dos de mule et de cheval des milliers de kilomètres dans un territoire jamais exploré, affrontant les chaleurs de l'Inde et les rigueurs glacées du Tibet, l'oeil fixé sur un nouveau Graal : le sommet de l'Everest.

Wade Davis a reçu de nombreuses distinctions comme la Golden Medal of the Royal Canadian Geographical Society (2009), la Lowell Thomas Medal (2002), la Explorers Medal (2011) ou encore la David Fairchild Medal for Plant Exploration (2012).
En 2012, ce livre a remporté le prix Samuel Johnson, la plus haute distinction britannique pour un ouvrage de non-fiction. Il a été traduit en Chine, au Japon, en Hollande et en Espagne.