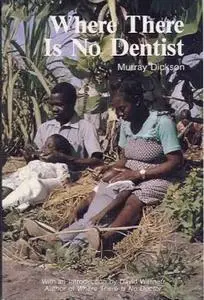 Murray Dickson, «Where There Is No Dentist»
Hesperian Foundation | ISBN 0942364058 | June 1983 | 192 Pages | 6,90 Mb
Community health workers, educators and individuals from around the world use
Where There Is No Dentist
to help people care for their teeth and gums. This book's broad focus makes it an invaluable resource.
The author uses straightforward language and careful instructions to explain how to examine patients, diagnose common dental problems, make and use dental equipment, use local anesthetics, place fillings and remove teeth. There is also a special chapter on oral health and HIV/AIDS, which provides the dental worker with a detailed, well-illustrated discussion of the special problems faced by people living with HIV/AIDS and appropriate treatment.
What people have to say about Where There Is No Dentist:
"By giving a well-balanced mixture of illustrations and simple, succinct text in layman's terms, the book provides valuable, hands-on advice for the most important oral health issues: oral health promotion in the community and basic oral care in low-resource settings."
-Habib Benzian
World Dental Federation (FDI)
"As a nurse educator, I can say that the Where There Is No Dentist text by the Hesperian Foundation, has been an excellent health resource text for us. Both its content, its diagrams and the educational level it was written for, have proven to be extremely useful. The content has been very practical in teaching lay Brazilians about oral hygiene and health care, as well as for identifying when oral and dental health problems exist and when and how to refer people to a dentist. It is rare that excellent health texts like this are written for the lay individuals."
-Janette Ryan, Health Director
Project AmaZon Mission [PAZ], Brazil
http://rapidshare.de/files/18219917/WTSND.rar.html
Password: noonya