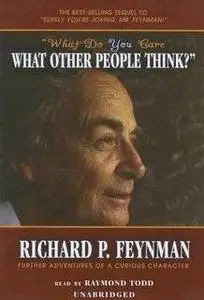 What Do You Care What Other People Think? (Audio Book)
ISBN: 0393320928
ISBN-13: 9780393320923
Format: Paperback, 256pp
Publisher: Norton, W. W. & Company, Inc.
Size: 300 MB Format: AUDIO
When Richard Feynman, who won the Nobel Prize in Physics, died in February 1988 after a courageous battle with cancer, the New York Times called him "the most brilliant, iconoclastic, and influential of the postwar generation of theoretical physicists." Here, in these "further adventures," a companion volume to "Surely You're Joking, Mr. Feynman!," is another healthy dose of Feynman's irreverent zest for life and an even deeper, wiser level of reminiscence. He tells us of his father, who taught him to think, and of his first wife, Arlene, who taught him to love, even as she lay dying. And Feynman takes us behind the scenes of the presidential commission investigating the space shuttle Challenger's explosion and to the dramatic moment when the cause of the disaster was revealed simply and elegantly as Feynman dropped a rubber ring into a glass of ice water and pulled it out, misshapen.
http://www.ftp2share.com/file/...er_People_Think.part1.rar.html
http://www.ftp2share.com/file/...er_People_Think.part2.rar.html
http://www.ftp2share.com/file/...er_People_Think.part3.rar.html
http://www.ftp2share.com/file/...er_People_Think.part4.rar.html
http://www.ftp2share.com/file/...er_People_Think.part5.rar.html
http://www.ftp2share.com/file/...er_People_Think.part6.rar.html