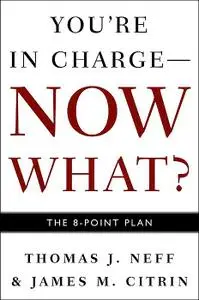 You're in Charge, Now What-Thomas Neff (AudioBook) - Publisher: Random House Audio, 2005
Length: 5 hours and 47 min.
Format : mp3
Audio Sample Rate: 44 Khz
Channels :2 (Stereo)
Bitrate : 128 kbps (I kept this rate lower consciously to make the total size of the book smaller, 128 kbps provides very good listening quality since it's an audobook.
What the Critics Say
"What truly distinguishes this book from available management volumes, besides its inspiring hit-the-ground-running approach, is the material gleaned from…chief executives, which is full of entertaining, enlightening first-person anecdotes….A guiding light to many an incoming manager." (Publishers Weekly)
Publisher's Summary
Getting a new job or a big promotion is like building a house: You need to get the foundation right for both. With a job, the quick-drying cement is how well you do in your first hundred days, since they establish the foundation for long-term momentum and great performance.
Tom Neff and Jim Citrin are two of the world's leading experts on leadership and career success. As key figures at Spencer Stuart (hailed by the Wall Street Journal as the number one brand name in executive search), they must understand the criteria for success when they recruit top executives for new leadership positions.
Tom Neff and Jim Citrin's actionable eight-point plan will be the foundation for your success, whether you are moving to a new organization or being promoted, showing how to:
• Prepare yourself mentally, physically, and emotionally from the time you accept until the time you begin
• Manage others' expectations of you, bosses, colleagues, and subordinates
• Shape and build the team that will work with you
• Learn the lay of the land and find out how things "really work around here"
• Communicate your story effectively to people inside and outside the organization
• Avoid the top 10 traps that confront every new leader, such as disrespecting your predecessor, misreading the true sources of power in the organization, or succumbing to the "savior syndrome"
When you start a new job you are in what AOL's Jon Miller calls a "temporary state of incompetence", faced with having to do the most when you know the least. But with the eight-point plan of You're in Charge, Now What? you'll understand and be able to take action on the patterns that will build your success.
Size : 3 files (98 MB + 98 MB and 53 MB)
Links :
http://rapidshare.de/files/238...Now_What-Thomas_Neff.part1.rar
http://rapidshare.de/files/238...Now_What-Thomas_Neff.part2.rar
http://rapidshare.de/files/238...Now_What-Thomas_Neff.part3.rar
Bu vesileyle KIZAMIK ŞEKERİ'ne kucak dolusu sevgiler…
password is the standart one…