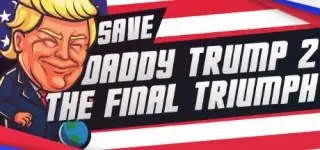 Save Daddy Trump 2 The Final Triumph (2021)
PC Game | Developer: Tero Lunkka, Valkeala Software | Publisher: Tero Lunkka | 3.8 GB
Languages: English
Genre: Action, Adventure, Indie, RPG | Release Date: 3 Mar, 2021
The epic saga will continue. Peaceland has a new leader called Corrupt and he and his army has kidnapped his former leader, who was the only real threat to his country, and locked him in a sealed container. The Player are daughter Trump called Kiki and She is only hope to restore peace to Peaceland. Kiki is talented fighter and She can handle swords, and bows to fight against Peaceland new evil leader Corrupt and his army. Use your skills and kill enemies to free Peaceland true leader.