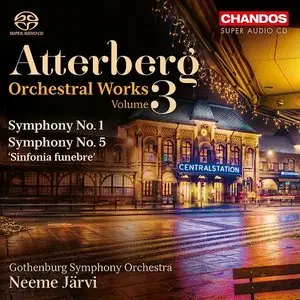 Kurt Atterberg - Orchestral Works Vol. 3 (Neeme Järvi, Gothenburg Symphony Orchestra) (2015)
Classical | Eac. Flac, Tracks, Cue, Log | Scans | 302 MB
Label: Chandos | Catalog N.: 5154 | TT: 63:19
In the third CD in his continuing series of the great Swedish late romantic composer, Kurt Atterberg, Neeme Jarvi interprets the two symphonies here in an invigorating manner with tempos that are rather fast and sometimes abrupt. Although the performances by Ari Rasilainen done some 15 years ago to my ears are still the preferred performances of these pieces in terms of bringing out the greatness of Atterberg's musical genius, Jarvi offers the listener a valid interpretation. Although his tempos are often rather too rushed and the adagio moments almost too quiet, the Gothenberg musicians are playing music that is close to their heart with impassioned and soaring string playing and the brass sections brilliant. The slow lyrical introduction to the final movement of Symphony No 1 with concertmaster Sara Troback Hesselink gives us the most moving and beautiful bars Atterberg ever composed.

It would be especially interesting to hear Jarvi's interpretation of Atterberg's older contemporary Peterson-Berger who is mentioned in the booklet notes. Although his role as a music credit affected his reputation in his lifetime, this says little of his melodic qualities and orchestration, which makes him one of the three greatest Swedish late romantic composers to my ear with Atterberg and Wilhelm Stenhammer and a cut above Hugo Alfven and Ture Rangstrom.

This disc is especially valuable for the only performance of the 1947 revised version of the 5th symphony. The book notes are also especially valuable with informative background along with archival photographs. The recording is also the best available in Chandos 24 bit sound. These additional features should give this CD a 4 1/2 star rating.