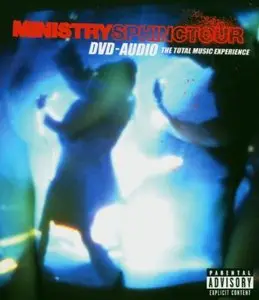 Ministry - Sphinctour (Live 1996) (DVD-Audio ISO) [2002]
DVD Audio Image (.ISO) = 3.94 GB | 400 MB RARs | 5% RAR Recovery Record | Not Watermarked
Industrial Metal | MLP 6-channel 96Khz/24-bit | Dolby Digital 5.1
Sphinctour is a live CD/DVD/VHS release by the industrial metal band Ministry released in 2002. It contains various tracks recorded on their 1996 world tour in support of the album Filth Pig. The original objective of Sphinctour was as a home video release, though a CD version was also made. There are no discernible differences audio-wise from the DVD, although, like their In Case You Didn't Feel Like Showing Up release, two tracks were omitted from the CD release.