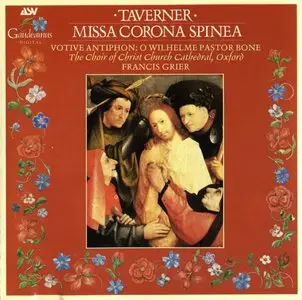 John TAVERNER. Missa Corona Spinea / The Choir of the Christ Church Cathedral, Oxford
EAC FLAC cue+scans (180 MB) | NO LOG | ogg.160+scans (55 MB)
ASV Gaudeamus CD GAU 115 (1982) | Renaissance
CORONA SPINEA is Taverner's longest Mass and a liturgical curiosity. Its plainsong cantus firmus (placed in the tenor) has never been identified, but the title implies that it was written for the feast of the Crown of Thorns, a rare event in England. As usual with Tudor festal Masses, the Kyrie is not set. The four remaining movements are of roughly equal length. Each consists of sections from two to four voices in various combinations, punctuated by passages for the full six-part choir. Taverner's choir at Cardinal College had sixteen boys and twelve men. The present choir of Christ Church Cathedral numbers sixteen boys and thirteen men. These performances, given by a choir of virtually identical size and composition to Taverner's own, and recorded in the building where he worked during the most fruitful part of his life, are therefore of unusual historical interest.