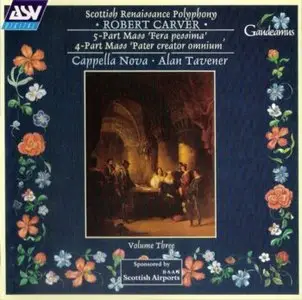 Robert CARVER. Mass Fera Pesima, à 5 - Mass Creator Omnium, à 4 (Cappella Nova, Alan Tavener) [vol. 3]
EAC FLAC cue+scans (200 MB) | NO LOG | ogg.160+scans (60 MB)
ASV Gaudeamus 127 (1991) | Renaissance
Carver's Mass Fera pessima for five voices of perhaps about 1525 has many stylistic affinities with the Mass L'Homme armé. It is another cantus firmus Mass (that is, one based on a recurring melody, often in longer notes and traditionally placed in the tenor), and it is also cyclic like the Mass for six voices in that each movement begins with a few bars of the same musical material.
Carver's Mass Pater creator omnium for four voices is precisely dated 1546 in the manuscript source. It is something of a curiosity, revealing on the one hand a desire by the composer to accommodate progressive ideas about clear word-setting and harmonic, chordal idioms, and on the other a reversal to his earlier decorative style. What music may have intervened between the Mass Fera pessima of about 1525 and this work is sadly lost, but may have revealed evidence of the radical stylistic changes that seem to have occurred.
Mass Fera Pessima, à 5 voices
01 - 1. Gloria [5:33]
02 - 2. Credo [7:19]
03 - 3. Sanctus - Benedictus [9:43]
04 - 4. Agnus Dei [7:00]
Mass Pater Creator Omnium, à 4 voices
01 - Gloria [7:25]
02 - Credo [6:53]
03 - Sanctus - Benedictus [9:23]
04 - Agnus Dei [11:12]
rapidshare links
CAPPELLA NOVA
Alan Tavener

Sopranos
Alison Bleasby (1)
Micaela Haslam (1*)
Katharine Laurie Jones (1)

Altos
David Gould (2*)
Adrian Hill (1*)
William Forbes Jones (2)
Rebecca Tavener (1, 2)

Tenors
Peter Douglas (1*, 2)
Robert Horn (1*, 2*)
Graham Lovett (1, 2)
Richard Roddis (2)

Basses
Colin Heggie (1*, 2*)
Nicholas Jones (1*, 2)
John Milne (2)
James McFarlane (1*, 2)
Andrew Mullen (2*)

(1) Mass a 5 - (2) Mass a 4
*: soloist