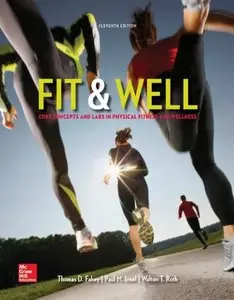 Fit & Well: Core Concepts and Labs in Physical Fitness and Wellness, 11 edition by Thomas Fahey and Paul Insel
English | 2014 | ISBN: 007352347X | 512 pages | PDF | 56,2 MB
Fit & Well gives students the knowledge and skills they need to make meaningful and lasting behavior change. The new edition combines proven science-based content and digital teaching and learning tools with the exciting introduction of liveWell - an innovative online, multi-media program designed to help college students improve their exercise, eating, and stress management habits.
Fit & Well motivates students through science - Fit & Well's respected text, which is available both in print and as an integrated multimedia eBook, provides the information students need to start their journey to fitness and wellness. Fit & Well's authoritative, science-based information is written by experts who work and teach in the field of exercise science, physical education, and health education. Fit & Well provides accurate, reliable, current information on key health and fitness topics while also addressing issues related to mind-body health, research, diversity, gender, and consumer health.