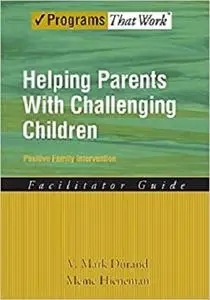 Helping Parents with Challenging Children Positive Family Intervention Facilitator Guide (Programs That Work) by V. Mark Durand, Meme Hieneman
English | March 14, 2008 | ISBN: 0195332989 | 144 pages | AZW3 | 0.815 Mb
Challenging behavior, while common, can have a significant negative impact on the lives of children and their families. A child's behavior problems can exacerbate developmental setbacks and disrupt overall family functioning. Furthermore, families of children with behavior problems are often at risk for drop out of intervention programs. This facilitator guide, along with the corresponding workbook, aims to assist parents who have difficulty completing parent training and implementing interventions. It uses a fresh and resourceful approach, combining principles of applied behavior analysis, tools of positive behavior support (PBS), and cognitive restructuring techniques. Parents begin be gathering information about what sets off their child's problem behavior, as well as what their child gets or avoids from misbehaving. They then learn strategies to prevent problems, manage consequences, and teach their child skills. A behavior support plan is designed that fits the family's needs and goals. Once the plan is put into place, it is monitored for effectiveness and adapted as necessary. Throughout the program, parents practice positive thinking skills, which can enhance their parenting abilities. This guide gives detailed instructions for conducting the optimism training and steering parents through the PBS process. The parent workbook provides assessment tools and forms to help the family carry out the intervention steps and track progress. The positive family intervention program may be useful for a variety of behavior problems and in conjunction with treatment for other disorders. It can be used with a range of ages and family situations. Facilitators working with families of children with challenging behavior will find this an invaluable guide.