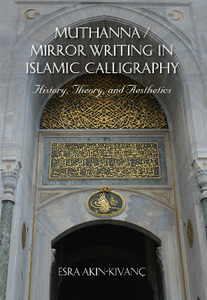 Muthanna / Mirror Writing in Islamic Calligraphy : History, Theory, and Aesthetics
by Esra Akin-Kivanc
English | 2020 | ISBN: 0253049202 | 352 Pages | ePUB | 84 MB
Muthanna, also known as mirror writing, is a compelling style of Islamic calligraphy composed of a source text and its mirror image placed symmetrically on a horizontal or vertical axis. This style elaborates on various scripts such as Kufic, naskh, and muhaqqaq through compositional arrangements, including doubling, superimposing, and stacking. Muthanna is found in diverse media, ranging from architecture, textiles, and tiles to paper, metalwork, and woodwork. Yet despite its centuries-old history and popularity in countries from Iran to Spain, scholarship on the form has remained limited and flawed. Muthanna / Mirror Writing in Islamic Calligraphy provides a comprehensive study of the text and its forms, beginning with an explanation of the visual principles and techniques used in its creation. Author Esra Akin-Kivanc explores muthanna's relationship to similar forms of writing in Judaic and Christian contexts, as well as the specifically Islamic contexts within which symmetrically mirrored compositions reached full fruition, were assigned new meanings, and transformed into more complex visual forms. Throughout, Akin-Kivanc imaginatively plays on the implicit relationship between subject and object in muthanna by examining the point of view of the artist, the viewer, and the work of art. In doing so, this study elaborates on the vital links between outward form and inner meaning in Islamic calligraphy.
If you want to support my blog, then you can buy a premium account through any of my files (i.e. on the download page of my book). In this case, I get a percent of sale and can continue to delight you with new books!