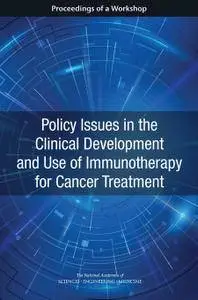 Policy Issues in the Clinical Development and Use of Immunotherapy for Cancer Treatment: Proceedings of a Workshop
National Academies Press | English | 2017 | ISBN-10: 030944232X | 134 pages | PDF | 2.37 mb
by Engineering, and Medicine National Academies of Sciences (Author)
Immunotherapy is a form of cancer therapy that harnesses the body's immune system to destroy cancer cells. In recent years, immunotherapies have been developed for several cancers, including advanced melanoma, lung cancer, and kidney cancer. In some patients with metastatic cancers who have not responded well to other treatments, immunotherapy treatment has resulted in complete and durable responses. Given these promising findings, it is hoped that continued immunotherapy research and development will produce better cancer treatments that improve patient outcomes.
With this promise, however, there is also recognition that the clinical and biological landscape for immunotherapies is novel and not yet well understood. For example, adverse events with immunotherapy treatment are quite different from those experienced with other types of cancer therapy. Similarly, immunotherapy dosing, therapeutic responses, and response time lines are also markedly different from other cancer therapies. To examine these challenges and explore strategies to overcome them, the National Academies of Sciences, Engineering, and Medicine held a workshop in February and March of 2016. This report summarizes the presentations and discussions from the workshop.
Feel Free to contact me for book requests, informations or feedbacks.