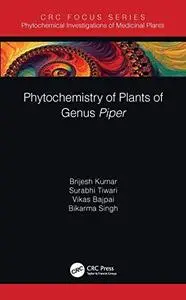 Phytochemistry of Plants of Genus Piper by Brijesh Kumar, Surabhi Tiwari
English | Jun 29, 2020 | ISBN: 036785757X, 0367500566 | 88 pages | EPUB | 1,6 MB
Piper is the representative genus of family Piperaceae. Piper species are pan-tropical in distribution and found in both the hemispheres. As the king of all spices, black pepper, Piper nigrum, led to the global expeditions culminating in the discovery of India and the new world. Piper species have been reported to possess various pharmacological activities such as insecticidal, antibacterial, anti-inflammatory, antiplatelet, anti-hypertensive, antithyroid, antitumor activities and hepatoprotective properties. Botanical authentication of the plants of Piper species is difficult because of the morphological similarity among the species. This book describes ultra-performance liquid chromatography coupled with triple quadrupole electrospray tandem mass spectrometry in multiple reactions monitoring (MRM) mode to study the quantitative variation of thirteen bioactive markers in different plant parts of ten Piper species.
Features:
Collection of Ayurvedic features and scientific evidence of the most important medicinal plants of Piper species.
Describes chemical signatures for identification of Piper species.
Provides easy-to-use analytical procedure for quality control of Piper species and its products.