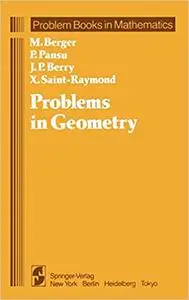 Marcel Berger, P. Pansu, J.-P. Berry, X. Saint-Raymond, Silvio Levy, "Problems in Geometry (Problem Books in Mathematics)"
English | 1984 | ISBN: 0387909710, 1441928227 | 276 pages | PDF | 5.7 MB
Written as a supplement to Marcel Berger's popular two-volume set, Geometry I and II (Universitext), this book offers a comprehensive range of exercises, problems, and full solutions. Each chapter corresponds directly to one in the relevant volume, from which it also provides a summary of key ideas. Where the original Geometry volumes tend toward challenging problems without hints, this book offers a wide range of material that begins at an accessible level, and includes suggestions for nearly every problem. Bountiful in illustrations and complete in its coverage of topics from affine and projective spaces, to spheres and conics, Problems in Geometry is a valuable addition to studies in geometry at many levels.