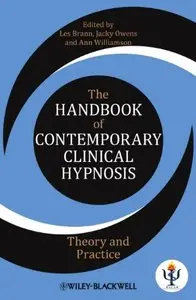 The Handbook of Contemporary Clinical Hypnosis: Theory and Practice by Les Brann, Jacky Owens and Ann Williamson
English | 2011 | ISBN: 0470683678 | 652 pages | PDF | 2,6 MB
The Handbook of Contemporary Clinical Hypnosis is an up-to-date, authoritative resource designed to underpin the use of clinical hypnosis within the medical and psychological fields, and to support training and research in the area.
Published in association with the British Society of Clinical and Academic Hypnosis (BSCAH), the book draws on the expertise and experience of a wide range of health professionals including doctors, dentists, nurses, psychologists and counsellors, all of whom use hypnosis techniques in their practice. Theoretical rigour is provided by contributions from academics currently conducting research into hypnosis and its applications.
This unique collection is an invaluable resource for those interested in acquiring the basic skills of hypnosis, as well as those exploring more advanced applications in specialized areas. Written by clinicians for clinicians, The Handbook of Contemporary Clinical Hypnosis is the definitive reference text for our current understanding of hypnosis and its application in clinical settings.