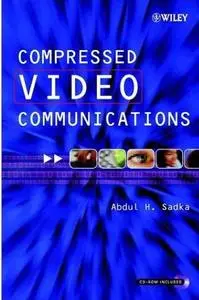 Compressed Video Communications by Abdul H. Sadka
Publisher: John Wiley & Sons; 1st edition (March 15, 2002) | ISBN-10: 0470843128 | PDF | 5,8 Mb | 248 pages
The compression schemes applied for the storage and transmission of digital video data leave content sensitive to transmission errors, information loss and quality degradation. Recent developments in error resilience techniques allow improved quality of service of video communication over a range of network platforms.
Digital video communications, supported by the Internet, ATM networks and Broadband ISDN, have undergone significant development over the past few years. Emerging applications include videoconferencing, tele-medicine and distance learning. This leading edge text addresses the problems associated with the delivery and design of video communication services.
— Presents a comprehensive overview of the principles and techniques employed in the improvement of the performance of video codecs in error prone environments — Provides a performance evaluation and comparison of video coding standards, MPEG-4, H.261 and H.263 — Outlines methods of video communication over mobile networks — Provides guidance on quality enhancement and the meeting Quality of Service (QoS) requirements for digital video communications —