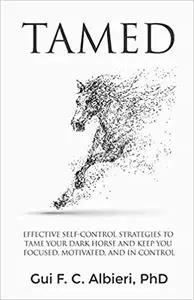 Gui F. C. Albieri, "Tamed: Effective Self-Control Strategies to Tame Your Dark Horse and Keep You Focused, Motivated, and in Control"
English | 2019 | ISBN: 0578502577 | 344 pages | EPUB | 0.716 MB
Plato's allegory of the Chariot suggests that we each have a bright horse, a dark horse, and a charioteer inside us, driving us towards our higher goals. The charioteer represents reason, the bright horse our virtues, whilst the dark horse—the focus of Tamed—is our self-indulgent, impulsive, instinctive self.As we set our chariot towards our goals, the impulsive, dark horse repeatedly tries to derail us, by succumbing to immediate gratification. In a world where interruptions and distractions surround us—from smart phones to Netflix accounts—our goals are constantly under attack. To make matters worse, our dark horse actually thrives on these interferences. In Tamed, Gui Albieri argues that in order to thrive in today's society we must fully understand Plato's triad and learn to tame the dark horse. Tamed describes how the dark horse functions, why we succumb to its demands, and how to bring it under control. Based on the latest research on goal achievement, and insights from social psychology, economics, and neuroscience, here you will find a series of simple strategies that anyone can easily and immediately begin to apply in their daily life.