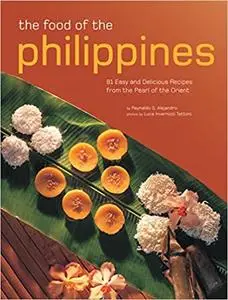 Reynaldo G. Alejandro, Luca Invernizzi Tettoni, "The Food of the Philippines: 81 Easy and Delicious Recipes from the Pearl of the Orient"
English | 2017 | ISBN: 0794607918 | 112 pages | EPUB | 10.7 MB
Learn authentic and delicious recipes from the Philippines, along with culinary culture and history, with this beautifully illustrated Filipino cookbook.
From the national dishes such as adobe, lechon and sinigang, to the fiery foods of the Bicol region where coconut milk is a favored ingredient, Filipino food is a concoction of tantalizing textures, flavors and colors.
Superb color photographs and detailed information on local ingredients make The Food of the Philippines perfect for anyone curious about the culinary delights of the "Pearl of the Orient"!
Featured Filipino recipes include:
Fish Ceviche
Pork Cracklings
Chicken Soup with Coconut
Simmered Vegetables with Shrimp
Fried Fish with Black Bean Sauce
Rich Beef Stew
Chicken and Pork Adobo
And many more!