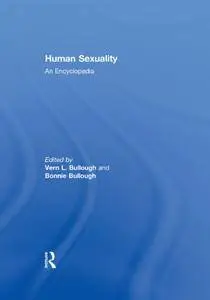 Human Sexuality: An Encyclopedia (Garland Reference Library of Social Science) edited by Vern L. Bullough, Bonnie Bullough
English | January 1, 1994 | ISBN: 0824079728, ASIN: B00HUTQX6Y | EPUB/AZW3 | 668 pages | 3.4/2.9 MB
According to the preface, this work updates and expands upon Robinson's Encyclopedia Sexualis (1936) and Ellis and Abarbanel's Encyclopedia of Sexual Behavior (1961) and complements A Descriptive Dictionary and Atlas of Sexology (Greenwood, 1991). The latter features only brief definitions; this volume is able "to concentrate on longer articles and major issues." The intended audience is the general, but literate, public. The article Graffiti, for example, summarizes its history and attempted analyses while interjecting humorous examples.
Contributors come from a variety of fields: nursing, biology, history, sociology, psychology, anthropology, political science, and literature. Most hold doctoral degrees. More than 200 signed articles cover a variety of sex-related topics, including Abortion, Cancer and Sexuality, Lovemaps, Nazis and Sex, Paraphilias, and Virility and Machismo. Sexuality in art, literature, and film is treated. Included are brief biographies of significant sex researchers, educators, and therapists, but "only deceased or elder statespersons" in the field, such as Alfred Kinsey and William Masters.
Articles that focus on the biological aspects of sexuality are written in lay terms. They are graphic but not sensational (for example, "The G spot feels like a small lump or a spongy bean. Stimulation causes it to swell and to increase in diameter from the size of a dime to, in some women, the size of a half-dollar").
All articles end with selected references, mostly to scholarly literature. A comprehensive index uses bold print to indicate main entry pages. The appendix suggests additional sources of sex information and tips on locating it. These include going to the library and browsing the "sections marked 306 or HQ, depending on whether that library is arranged by Dewey classification or Library of Congress classification," using Dissertation Abstracts, browsing the core sex journals (which are listed), shopping mail-order distributors that specialize in nonfiction sexuality topics (names and addresses supplied), and contacting professional organizations such as the Society for the Scientific Study of Sex and the Sex Information and Education Council of the U.S.
Filling a real need for a serious treatment of sexuality for laypersons, this book will be welcomed by public and academic libraries.