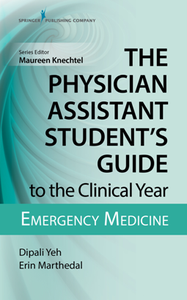 The Physician Assistant Student's Guide to the Clinical Year : Emergency Medicine
by Dipali Yeh, Erin Marthedal
English | 2020 | ISBN: 082619527X | 308 Pages | ePUB | 13.2 MB
The first pocket-size resource to guide PA students through their emergency medicine rotation
Prepare for and thrive during your clinical rotations with the quick-access pocket guide series, The Physician Assistant Student's Guide to the Clinical Year. The Emergency Medicine edition of this 7-volume series, discounted when purchased as a full set, delineates the exact duties required in this specialty.
Written by experienced PA educators, this guide details the clinical approach to common presentations such as chest pain, altered mental status, and headache. It also provides a systems-based approach to more than 40 of the most frequently encountered disease entities you will see in this rotation, including traumatic injury, cerebrovascular accident, and acute coronary syndrome.
Distinguished by brief, bulleted content with handy tables and figures, the reference offers all pertinent laboratory and imaging studies needed to confirm a diagnosis, with medication and management guidelines. This guide also describes the most common procedures you will learn during the emergency medicine rotation, including incision and drainage, wound repair, and foreign body removal. Also included is a special chapter on non-medical situations you'll find in the emergency department, such as drug-seeking behavior, violent or incarcerated patients, and malingering and factitious disorders.
Key Features:
- Provides a pocket-size overview of the PA emergency medicine rotation
- Describes common clinical presentations, disease entities, and procedures
- Offers clinical pearls throughout
- Reflects the 2019 NCCPA PANCE blueprint
- Includes three bonus digital chapters! Guided case studies to reinforce clinical reasoning, 25 rotation exam-style questions with remediating rationales, and additional resources to enhance your emergency department experience
If you want to support my blog, then you can buy a premium account through any of my files (i.e. on the download page of my book). In this case, I get a percent of sale and can continue to delight you with new books!