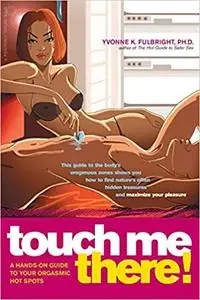 Yvonne K. Fulbright, "Touch Me There!: A Hands-On Guide to Your Orgasmic Hot Spots"
English | 2007 | ISBN: 0897934881 | 192 pages | True PDF | 5.71 MB
This lively hands-on guide is the first book to focus exclusively on all of the body's titillating hot spots, offering lovers a new realm of sexual exploration and experience. Sexologist Yvonne K. Fulbright gives readers of all sexual orientations a guided tour of the male and female body's wild attractions and explains how to maximize pleasure from head to toe. Individual chapters detail her hot spots, his hot spots, mind-blowing spots for both sexes, and positions and toys for ultimate stimulation. All four sections help readers find nature's hidden treasures, dispelling notions of what "can't" be done. A plethora of sex tips, techniques, and tools that build intimacy and communication skills leads to even greater sexual and emotional satisfaction. The information is delivered thoroughly but not too thoroughly, encouraging lovers to engage in their own sensual how-to sessions.