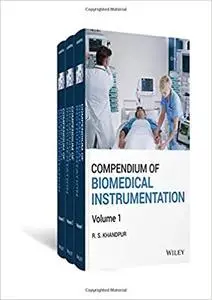 Raghbir Singh Khandpur, "Compendium of Biomedical Instrumentation, 3 Volume Set Ed 3"
English | ISBN: 1119288126 | 2020 | 1800 pages | PDF | 232 MB
The field of medical instrumentation is inter-disciplinary, having interest groups both in medical and engineering professions. The number of professionals associated directly with the medical instrumentation field is increasing rapidly due to intensive penetration of medical instruments in the health care sector. In addition, the necessity and desire to know about how instruments work is increasingly apparent. Most dictionaries/encyclopedias do not illustrate properly the details of the bio-medical instruments which can add to the knowledge base of the person on those instruments. Often, the technical terms are not covered in the dictionaries. Unless there is a seamless integration of the physiological bases and engineering principles underlying the working of a wide variety of medical instruments in a publication, the curiosity of the reader will not be satisfied. The purpose of this book is to provide an essential reference which can be used both by the engineering as well as medical communities to understand the technology and applications of a wide range of medical instruments. The book is so designed that each medical instrument/ technology will be assigned one or two pages, and approximately 450 medical instruments are referenced in this edition.