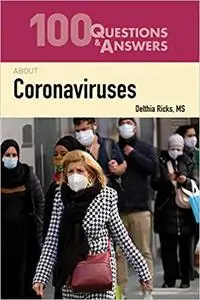 100 Questions & Answers About Coronaviruses
Jones & Bartlett Learning | English | 2022 | ISBN-10: 1284225097 | 202 pages | PDF/ePUB | 1.52/1.71 MB
by Delthia Ricks (Author)
An Affordable Resource For Any Undergraduate or Graduate-level Nursing or Public Health Course Covering COVID-19
The COVID-19 pandemic has staked its claim as the deadliest worldwide respiratory disease outbreak in over 100 years. But what exactly is this new, highly contagious virus? Where did it come from, and how has it spread so quickly?
100 Questions & Answers About Coronaviruses answers these questions and more in an easy-to-read format. This timely book organizes and distills cutting-edge information and data on COVID-19 in a single, convenient resource. Featuring a foreword by Dr. Aaron Glatt, Professor of Medicine at Icahn School of Medicine in New York City, and Chairman and Chief of Infectious Diseases and Hospital Epidemiologist at Mount Sinai South Nassau on Long Island, 100 Questions & Answers About Coronaviruses begins with a historical overview and examines myths about coronaviruses. It progresses to answer questions about how COVID-19 affects children and adults, current vaccine research, quarantine, social distancing, preventing future pandemics, and other frequently asked questions.
100 Questions & Answers About Coronaviruses is an invaluable resource for every nursing or public health student and a must-read for anyone interested in learning about the virus that has reshaped our daily lives.
Features & Benefits
Organized in an easy-to-read question and answer format
Provides cutting-edge information and data on coronaviruses, including how they spread and how to protect against them
Includes historical overview of coronaviruses and how three new coronaviruses that infect humans (SARS, MERS, and COVID-19) emerged in the 21st century
ABOUT THE AUTHOR
Delthia Ricks, MS - New York Newsday, New York City, New York
Delthia Ricks is an award-winning science journalist and author. She wrote the Jones & Bartlett Learning book, 100 Questions & Answers About Influenza in 2009. For 22 years, Ricks was a staff health and science writer for Newsday, the Long Island newspaper. She has written on a variety of science issues for national magazines and journals, including Genetic Engineering and Biotechnology News, Discover Magazine, The Journal of the National Cancer Institute and many others. She is a contributor to the London-based medical news website, Medical Xpress.