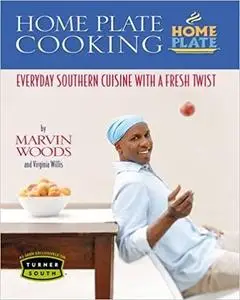 Marvin Woods, "Home Plate Cooking: Everyday Southern Cuisine with a Fresh Twist"
English | 2004 | ISBN: 1401602029 | 226 pages | EPUB | 1.5 MB
Nothing says the South more than its unique food and various cooking styles. Southern recipes are cherished heirlooms passed down from generation to generation and Home Plate Cooking shows how to prepare the same recipes your grandmother used to make, while sharing fresh versions of the same food. That could mean preparing a marinade for collard greens that will eliminate the need for fat back, or cutting down on preparation or cooking time for a family favorite. Featuring 150 recipes, Home Plate Cooking celebrates home cooked southern meals in a way southern recipes have never been presented before.
"I started challenging myself six or seven years ago to prepare tasty cuisine that reflected my heritage and influence but to alter it so that people could eat it more than once a week and not have to worry about suffering from high blood pressure in every bite," Woods said.
In Home Plate Cooking, Woods shares recipes for delicacies such as:
Cheddar Grits Souffle
New Southern Chicken & Dumplings
Carrot Apple Slaw
Cheddar Cornbread
Okra & Tomatoes
Bourbon-Baked Ham
New Orleans Barbecued Shrimp
Pecan Sandies
Upside-Down Apple Cake