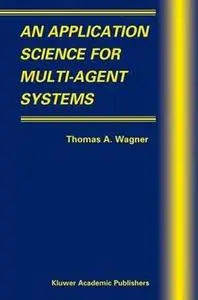 An Application Science for Multi-Agent Systems (Multiagent Systems, Artificial Societies, and Simulated Organizations) by Thomas A. Wagner (Editor)
Publisher: Springer; 1 edition (June 1, 2004) | ISBN-10: 1402078676 | PDF | 8 Mb | 258 pages
An Application Science For Multi-Agent Systems addresses the complexity of choosing which multi-agent control technologies are appropriate for a given problem domain or a given application. Without such knowledge, when faced with a new application domain, agent developers must rely on past experience and intuition to determine whether a multi-agent system is the right approach, and if so, how to structure the agents, how to decompose the problem, and how to coordinate the activities of the agents, and so forth. This unique collection of contributions, written by leading international researchers in the agent community, provides valuable insight into the issues of deciding which technique to apply and when it is appropriate to use them. The contributions also discuss potential trade-offs or caveats involved with each decision. An Application Science For Multi-Agent Systems is an excellent reference for anyone involved in developing multi-agent systems.