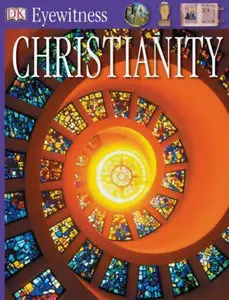 Christianity (Eyewitness Guides)
Dorling Kindersley Publishers Ltd | ISBN: 1405316039 | edition 2006 | PDF | 72 pages | 7,7 MB
This is a nice book that teaches about Christianity without bias. It covers most forms of the religion and how the practices and beliefs are similar and different. The chief charm of the volumes in the DK Eyewitness Books series are the color photographs that accompany the text in each double-page spread. The volume is organized into roughly three main sections. The first touches on the Old Testament and then covers the birth, teachings, Crucifixion, and Resurrection of Jesus. The second looks a the history of the early Christian church, the Bible, the concepts of heaven and hell, and organized religion in terms of Catholicism, the Orthodox church, the Reformation, and Protestantism. The third section deals with the Christian life, as lived by monks, nuns, and priests; Christian churches; a step by step look at the sacrament of Holy Communion and other aspects of Christian practice and culture. From the standpoint of providing information on the topic of Christianityt Peter Wilkinson goes for breadth rather than depth, which is appropriate for an introductory volume such as this one.