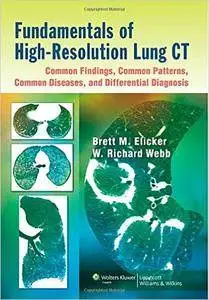 Brett M. Elicker, W.Richard Webb, "Fundamentals of High-resolution Lung CT: Common Findings, Common Patterns, Common Diseases, and Differential Diagnosis"
2013 | ISBN-10: 1451184085 | 272 pages | PDF | 795 MB
"Fundamentals of High Resolution Lung CT" presents a simple and concise approach to the HRCT diagnosis of diffuse lung disease. Using a clear, reader-friendly approach, the book presents the fundamental insights and facts necessary to interpret HRCT in any clinical setting. The text and illustrations highlight the most essential rules, reasoning, shortcuts, and differential diagnostic techniques used in daily clinical practice. Readers will find it an excellent guide to improving the HRCT assessment of commonly encountered lung disease. You can improve the way you diagnose lung disease! Features: nearly 600 high-quality full-color illustrations improve diagnostic accuracy by detailing the radiographic features of common lung diseases as they appear on HRCT; straightforward but comprehensive discussions detail HRCT findings and patterns, and their applications to the diagnosis of lung disease; disease-specific coverage makes essential facts easy to find and apply; and availability in e-book and tablet format lets readers access critical content any time, from their handheld reader or tablet device.