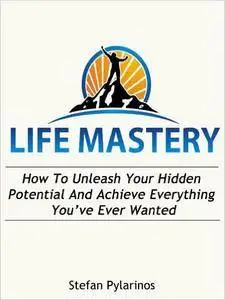 Stefan Pylarinos, "Life Mastery: How To Unleash Your Hidden Potential And Achieve Everything You've Ever Wanted"
2013 | EPUB | 190 pages | ISBN: 1484933249 | English | 0.1 MB
A Proven, Step-By-Step System To Mastering Your Life And Achieving Everything You've Ever Wanted!
Dear Friend,
My name is Stefan Pylarinos and I'm about to reveal to you my proven, step-by-step system that will help you to unleash your hidden potential, master every area of your life, and achieve everything you've ever wanted.
I know that's a bold statement, but I can confidently say that because I've personally transformed my entire life with the information I'm sharing with you in this book. Life Mastery shares the story of how I changed every area of my life, along with the specific strategies and tools that will change your life also.
These Strategies And Principles Changed My Life
This book is full of fresh, original and powerful concepts that are backed by YEARS of my own personal psychological research and my own real world experience, along with the experiences of THOUSANDS of men and women who have transformed their lives and achieved amazing success by using these strategies and principles. In short, what you will learn in this book WORKS.
Here's just a few of the results I've experienced because of the strategies in this book:
* I went from being broke and massively in debt to making an annual six figure passive income online.
* At 24 years old, I became financially free and semi-retired. I've travelled around the world and lived in different cities around the globe.
* I went from being a scrawny weakling to transforming my body and competing in the WBFF fitness model competition.
* I went from shy, introverted and alone to becoming confident and outgoing, attracting an incredible relationship.
* I became a public speaker and life coach and have built a successful business that has impacted the lives of hundreds of thousands of people around the world.
And much, much more!
Here Is A Preview Of What You'll Learn
How to revolutionize and master every area of your life, including: your physical body, emotions, relationships, time, career, business, finances, and spirituality.
A proven step-by-step strategy to plan, manage and make progress in each area of your life effectively so that you can be balanced and fulfilled.
Design a compelling vision for your life that you are passionate about and will motivate you everyday.
Discover your purpose in life and unleash your drive to propel you to the next level.
The ultimate goal setting workshop to discover what you really want in every area of your life, along with a game plan to help you achieve them.
How to manifest everything you've ever wanted and dreamed of through these simple techniques.
The "secret" to achieving your goals faster than you ever thought possible (hint: this is the one thing that all successful people have in common).
The ONLY THING that can stop you from achieving your goals and how to prevent it from ever stopping you.
How to change your limiting beliefs and eliminate inner conflicts that are getting in the way of your success.
How to change your life in 30 days with the 30 Day Challenge.
The ultimate morning ritual and evening ritual that will help you be unstoppable everyday of your life.
And much, much more!