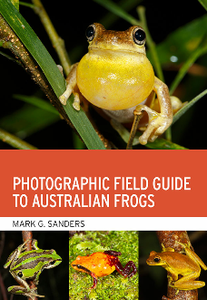 Photographic Field Guide to Australian Frogs
by Mark G. Sanders
English | 2021 | ISBN: 1486313256 | 376 Pages | True ePUB | 29 MB
Australia is home to more than 240 species of frogs, many of which cannot be found anywhere else in the world.
The Photographic Field Guide to Australian Frogs provides readers with the tools to confidently identify 242 species and five recognised subspecies. It includes detailed information on the distribution, habitat preferences and call of each frog species, as well as fully illustrated keys to genera to assist with identification. Multiple photographs of each species show variation in colour and pattern as well as features used for identification such as thigh colouration, skin texture, belly colour and patterning, eye colour and extent of webbing between the toes.
With a strong focus on illustrating variation and key diagnostic features, this guide will enable frog enthusiasts, environmental professionals and research scientists to identify Australian frog species with a high level of confidence.
Features:
- Detailed species descriptions with comparative analysis to improve identification
- Generously illustrated with feature-specific images including webbing, finger discs, posterior thigh color, and bellies
- Provides keys for identification and individual distribution maps
- Includes call descriptions with comparisons to similar species.
If you want to support my blog, then you can buy a premium account through any of my files (i.e. on the download page of my book). In this case, I get a percent of sale and can continue to delight you with new books!