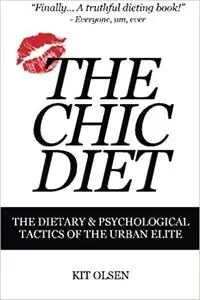 Kit Olsen, "The Chic Diet: The Dietary & Psychological Tactics of the Urban Elite"
English | 2013 | ISBN: 1490327908 | 120 pages | EPUB | 0.26 MB
Everyone can spot a Chic Girl from a city block away. She oozes glamour from every pore as she struts around in her sample sized dress, traipsing around on her skinny little legs in her absurdly expensive heels. People stop to stare and wonder, "How does she do it?"
She will preach about balanced diets and red-faced workout sessions, but it's all a farce. Like, didn't you know about her real dietary tactics? Oh, you didn't? Well, aren't you in for a treat!
Be it a month-long juice cleanse, a steady diet of air, or eschewal of any foodstuff that isn't green or white, the chic girl knows how to keep her figure svelte and trim. And you know what else she's really, really good at? Being completely, utterly and hopelessly unhinged. Glamorous!