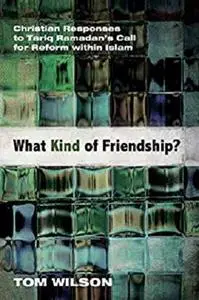 What Kind of Friendship?: Christian Responses to Tariq Ramadan's Call for Reform within Islam by Tom Wilson
English | October 23, 2015 | ISBN: 149822444X | 160 pages | AZW3 | 0.35 MB
We sometimes say that Muslims and Christians are part of Abraham's family, but while you can choose your friends, you cannot choose your family. In a world filled with conflict, can Christians be friends with Muslims? When it comes to medical ethics, the economy, the environment, media, the arts, the place of women in society, political engagement, do Christians and Muslims have any views in common? Utilizing the writings of respected Muslim reformer Tariq Ramadan, Tom Wilson asks questions about what kind of friendship Christians and Muslims might have. While we disagree as to who Jesus is or how we can be saved, can we agree in our concern for a fairer, more just society? Can we work together for the common good as friends who disagree but remain respectful?
"Some Christians fear that friendship with Muslims, other than as a precursor to missionary or apologetical activity, would betray their commitment to discipleship and risk compromising salvific truth. Wilson shows why such fears are misplaced, on what basis friendship can be built, and over which issues believers of both faiths can and should work together for the sake of God's world. A wonderfully wise and accessible example of theology, ethics, and shared humanity fostering harmony despite differences."
–John Sullivan, Emeritus Professor of Christian Education, Liverpool Hope University and Visiting Professor of Theology and Education, Newman University
"Wilson engages thoroughly and with genuine insight into the appropriate Christian responses to Tariq Ramadan's
Call for Reform within Islam
. He demonstrates a mature wisdom in tackling the issues of how we as Christians relate to our Muslim friends. . . . This book enables the reader to have a good grounding in Muslim-Christian relations. It is a very well-written, honest, and vibrant contribution to better understanding Muslim-Christian perspectives. I highly recommend this book."
–Adrian Brixey, ECM International, Coordinator for Muslim and Migrant Ministry
"Wilson's book is an excellent review of the work of Tariq Ramadan, one of the most prominent scholars of Islam in Europe. Wilson makes an excellent attempt to interrupt Ramadan's work from a Christian perspective. I especially liked the comparisons the book makes between Ramadan's work and his use of Quranic verses and the Hadiths of the Prophet Mohammed PBUH, and what Wilson believes are the Christian equivalents."
–Kamal Mashjari, Cultural Manager, Al Ghazali Centre
Tom Wilson is Director of the St Philip's Centre in Leicester, UK, which specialises in interfaith study and engagement from a Christian perspective. He has worked closely with Muslims in the UK for the past eight years, both in interfaith dialoge and community projects. His PhD research examined the experience of Muslim children in an Anglican primary school. He is the author of
All United Together
(2013) and
Hospitality and Translation
(2015).