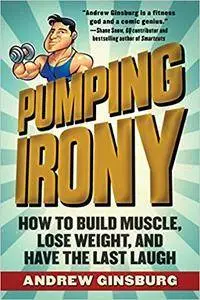 Andrew Ginsburg, "Pumping Irony: How to Build Muscle, Lose Weight, and Have the Last Laugh"
ISBN: 1510716122 | 2017 | EPUB | 220 pages | 4 MB
In Pumping Irony, fitness expert Andrew Ginsburg presents a workout and diet program that helps one lose weight, build muscle, and sculpt a unique body. Ginsburg treats each physique as an art project, except the body is the canvas, the weights are the paintbrush, and the food is the paint. In addition to the diet and exercise regime, this book offers unique insight into finding the right trainer, advice on how to sniff out fake trainers, gym etiquette, and details regarding how to find the right gym attire. The mental side of fitness is also discussed to keep the trainee motivated to reach their fitness goals.
Pumping Irony presents a tried and true workout and diet strategy that leaves nothing to chance. By combining extensive fitness knowledge with engaging humor, this book makes the notion of going to the gym a fun and exciting one. Readers will be able to laugh their way through the workout, regardless of its intensity.