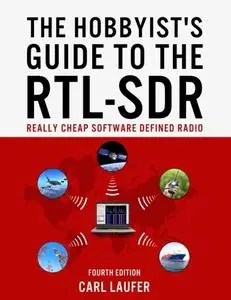 The Hobbyist's Guide to the RTL-SDR: Really Cheap Software Defined Radio by Mr. Carl Laufer
English | 26 Jun. 2015 | ISBN: 1514716690 | 282 Pages | EPUB | 6.36 MB
A comprehensive guide to the RTL2832U RTL-SDR software defined radio by the authors of the RTL-SDR Blog. The RTL-SDR is a super cheap software defined radio based on DVB-T TV dongles that can be found for under $20.
This book is about tips and tutorials that show you how to get the most out of your RTL-SDR dongle. Most projects described in this book are also compatible with other wideband SDRs such as the HackRF, Airspy and SDRPlay RSP.
What's in the book?
Learn how to set up your RTL-SDR with various free software defined radio programs such as SDR#, HDSDR, SDR-Radio and more.
Learn all the little tricks and oddities that the dongle has.
A whole chapter dedicated to improving the RTL-SDR's performance.