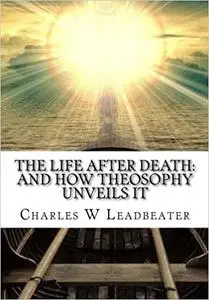 Charles W Leadbeater, "The Life After Death: And How Theosophy Unveils It"
English | 2015 | ISBN: 1517790409, 0341678457 | 44 pages | EPUB | 0.144 MB
This subject of life after death is one of great interest to all of us, not only because we ourselves must certainly one day die, but far more because there can scarcely be any one among us, except perhaps the very young, who has not lost (as we call it) by death some one or more of those who are near and dear to us. So if there be any information available with regard to the life after death, we are naturally very anxious to have it. But the first thought which arises in the mind of the man who sees such a title as this is usually "Can anything be certainly known as to life after death?" We have all had various theories put before us on the subject by the various religious bodies, and yet even the most devoted followers of these sects seem hardly to believe their teachings about this matter, for they still speak of death as *the king of terrors," and seem to regard the whole question as surrounded by mystery and horror. They may use the term falling asleep in Jesus," but they still employ the black dresses and plumes, the horrible crepe and the odious black-edged note-paper, they still surround death with all the trappings of woe, and with everything calculated to make it seem darker and more terrible. We have an evil heredity behind us in this matter; we have inherited these funereal horrors from our forefathers, and so we are used to them, and do not see the absurdity and monstrosity of it all. The ancients were in this respect wiser than we, for they did not associate all these nightmares of gloom with the death of the body—partly perhaps because they had a so much more rational method of disposing of the body—a method which was not only infinitely better for the dead man and more healthy for the living, but was also free from the gruesome suggestions connected with slow decay. They knew much more about death in those days, and because they knew more they mourned less.