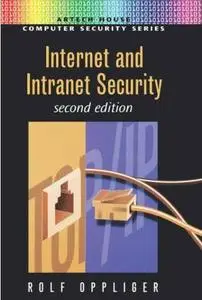 Internet & Intranet Security by Rolf Oppliger
Publisher: Artech House Publishers; 2 edition (September 18, 2006) | ISBN-10: 1580531660 | CHM | 5,6 Mb | 500 pages
This pioneering guide to Internet and intranet security is the first to cover all of the relevant technologies in one comprehensive reference, and enhances your ability to create and deploy secure architectures. It gives you the knowledge you need for improved productivity, whether you're setting up commerce on line, assembling a firewall, or selecting access controls and cryptographic protocols to secure TCP/IP-based networks.
Everything you need to develop proper access, control, and communication security on TCP/IP-based networks is covered. A complete review of the various cryptographic techniques available gives you the tools you need to protect all of your on-line transactions. Internet, transport and application layer security issues, including packet filtering techniques and application-layer gateways, are covered in detail. You also learn how to compare and assess the benefits of various security protocols and technologies. Here, for the first time, is an essential road map to Internet and intranet security for systems and network administrators, application developers, communications protocol designers, university students, and lecturers.
Download from Ftp2Share