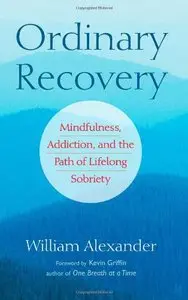 Ordinary Recovery: Mindfulness, Addiction, and the Path of Lifelong Sobriety by William Alexander and Kevin Griffi
English | ISBN: 159030828X | 2010 | 160 pages | EPUB + MOBI | 0,8 + 0,5 MB
The key to ongoing freedom from alcoholism or any other kind of addiction is right before us, here and now, in the ordinary and perfect present moment. The problem is that addictions are often the result of our efforts to escape living in the present in the first place.
Bill Alexander's unique approach uses mindfulness (a nonjudgmental awareness of our moment-to-moment experience), story, and meditation to help alcoholics and others learn to come back to the present moment and find healing there. Emerging scientific research suggests that mindfulness can help prevent addiction relapse.
Ordinary Recovery is a revised edition of Alexander's book Cool Water, with a new foreword, a new preface by the author, updates throughout the book, and a new resources section.