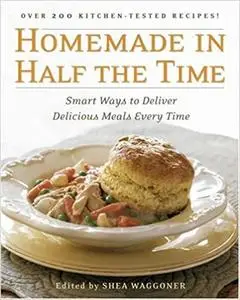 Shea Waggoner, "Homemade in Half the Time: Over 200 Easy and Delicious Recipes for Everyday"
English | 2006 | ISBN: 1594863660 | 384 pages | EPUB | 59.4 MB
Preparing high-quality, home-cooked meals in record time has never been easier—or more delicious!
You can enjoy that special homemade taste without spending hours in the kitchen. The new generation of convenience foods—like precut produce and premarinated meats—make it possible to enjoy outstanding home-cooked meals, fast! You simply need to know what ingredients to buy, what cooking techniques to use, and when you can safely slash preparation and cooking time without sacrificing taste.
Here readers will learn how to shave 3 hours off Chicken Pot Pie with Biscuits or how to make a Clementine Tart with White Chocolate Macadamia Cookie Crust in only 8 minutes of hands-on time. In fact, more than 50 recipes require only five ingredients or less (plus salt and pepper). And readers will get two meals for the work of one with Double-Duty Dinners (learning, for instance, how to transform a set-aside portion of Roasted Chicken and Turnips in Peanut Sauce into Thai Chicken Noodle Salad). Menus and shopping guides make planning for a week's meals as hassle-free as possible.
With more than 200 streamlined recipes and a wealth of ingenious time-saving tips, Homemade in Half the Time is the perfect cookbook for 21st-century America, when people's schedules are more hectic than ever yet they are more demanding about the flavor and healthfulness of the meals they eat.