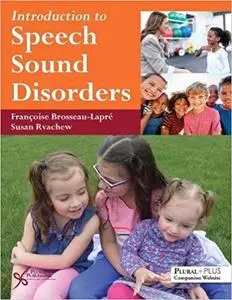 Introduction to Speech Sound Disorders
Plural Publishing | English | 2019 | ISBN-10: 1597568031 | 395 pages | PDF | 8.32 MB
by Françoise Brosseau-Lapré (Author), Susan Rvachew (Author)
Introduction to Speech Sound Disorders is a comprehensive textbook for undergraduate speech sound disorders courses in communication sciences and disorders programs. The text covers the major concepts and constructs currently framing the study of speech sound disorders in children, including typical and atypical phonological acquisition and clinical skills regarding assessment and intervention. The text is designed to prepare students for graduate level study of speech sound disorders and early supervised clinical practice with children. The text and associated website are intended to support new and experienced instructors as they strive to facilitate novice-level clinical competencies in their speech-language pathology students.
Key Features:
Detailed organization that provides foundational knowledge and then leads the student through the logical sequence of clinical activities.
Coherent organization that ensures that all new terms are defined and the student's understanding is enriched by repeated application in new contexts throughout.
Clear terms and explanations that reflect current research evidence in speech sound disorders.
Detailed examples, illustrations, tables and figures throughout to increase comprehension for undergraduate students.
Each chapter begins with learning objectives and ends with study questions.
Practice activities are included throughout to encourage interactive learning.
Key Point boxes encourage review of important content at the end of each section.
A PluralPlus companion website contains PowerPoint lecture slides, example course syllabi, and quizzes and exercises for students.
Introduction to Speech Sound Disorders begins with basic concepts in phonetics and phonology, covers normal phonological development, and then details assessment, interpretation and diagnosis, treatment planning, and finally the selection and implementation of an appropriate intervention. It ends with a description of input, output, and phonological treatment procedures. The text is evidence-based, and includes the most current research on speech sound disorders.
Review
"The material is organized in a way that allows students to build knowledge. The writing is clear and straight forward. The coverage is complete. The organization of input- and output-oriented approaches is unique to this text." –Carol Koch, EdD, CCC-SLP, Professor, Department of Communication Sciences and Disorders, Samford University
"I have reviewed and used several different speech disorder textbooks and this one is updated, current and readable. Each chapter is very thorough, detailed and has a specific focus which is excellent for beginning undergraduates. The terminology is current and reflects the latest trends in speech disorders. The detailed terms at the end of each chapter help highlight what is critical in the learning process. …After years of teaching speech sound disorders, I have found that several textbooks are very challenging for beginning students entering the speech pathology field. I like the way the chapters flow and build from introduction to practice." –Keri Parchman-Gonzalez, MA, CCC-SLP, Clinical Assistant Professor, Communication Sciences and Disorders, The University of Texas Rio Grande Valley
"I have been looking for a textbook emphasizing both input and output of speech. Typical textbooks only focus on output without considering input aspect. I am glad that the authors made this book in that way. In order to fully understand speech and treat speech sound disorders, both input and output of speech have to be addressed equally. This book will help students develop balanced understanding on how speech develops and how speech sound disorders are treated." –Sue Ann S. Lee, PhD, CCC-SLP, Associate Professor, Department of Speech-Language-Hearing Sciences, Texas Tech University Health Sciences Center
About the Author
Françoise Brosseau-Lapré, PhD, CCC-SLP, worked as a speech-language pathologist in the pediatric health care setting for several years before taking a position at Purdue University, where she is currently an Assistant Professor of Speech, Language, and Hearing Sciences. Her research is focused on the contribution of speech perception to speech production in phonological development and disorders, as well as cross-linguistic investigations of children with phonological disorders, with the goal to develop more effective assessment and intervention protocols for this population.
Susan Rvachew, PhD, S-LP(C), worked as a speech-language pathologist in pediatric health care settings for 20 years before taking a position at McGill University, where she is currently a Full Professor in the School of Communication Sciences and Disorders. Her research is focused on phonological development and disorders and the development of more effective interventions to treat phonological disorders in children and prevent reading disability in this population. She has published over 65 journal articles and book chapters describing the speech perception, speech production, phonological awareness skills, and/or spelling and reading abilities of infants, children, and adults.