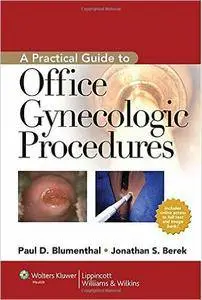 Paul D. Blumenthal, Jonathan S. Berek, "Practical Guide to Outpatient Gynecologic Procedures (2nd edition)"
2013 | ISBN-10: 1605477044 | 208 pages | PDF | 28 MB
Office based procedures in surgical fields are rapidly growing allowing for quicker diagnosis and treatment. This new book, A Practical Guide to Office Gynecologic Procedures provides the step-by-step guide to office-based procedures physicians need to treat women in the ambulatory setting. Covering the most commonly used office gynecologic procedures, this new book covers indications, proper positioning, anesthesia and equipment needed for over 35 office-based procedures. Chapters also present careful guidance on effective patient management. Perform gynecologic procedures in a cost-effective ambulatory setting, while improving the outcome for your patients with this easy-to-use clinical reference. Features: written by the faculty, fellows, and residents of the Stanford Department of Obstetrics and Gynecology; includes foreword by prestigious Editor, Dr. Jonathan Berek; practical, illustrated guide provides the "need-to-know" information on performing common office procedures; CPT codes are listed to save you time; over 250 full color-figures (illustrations, photos) help identify and demonstrate how to perform techniques; and, convenient companion website includes fully searchable text and images providing you access to the content anytime.