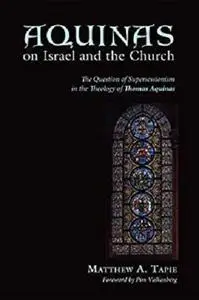 Aquinas on Israel and the Church: The Question of Supersessionism in the Theology of Thomas Aquinas by Matthew A. Tapie
English | October 27, 2014 | ISBN: 162564602X | 216 pages | AZW3 | 0.47 MB
The question of whether or not Thomas Aquinas's theology is supersessionist has elicited deep disagreement among scholars. Some maintain that Aquinas is the standard-bearer of a supersessionist church that undermines Judaism, while others hold that Aquinas avoids supersessionism altogether. Yet the discussion over whether Aquinas's theology is supersessionist has not always carefully interrogated the term "supersessionism," nor has it taken into account some of Aquinas's most relevant texts on the subject of Israel and the Church: his commentaries on Paul's letters. Drawing upon the Pauline commentaries,
Aquinas on Israel and the Church
argues that while Aquinas's most commonly articulated view is that Jewish worship is discontinued after the passion of Christ, Aquinas also advanced views that set this into question, and in ways that support contemporary Christian teachings that affirm the value of postbiblical Judaism.
"Matthew Tapie carefully analyzes the terminology of supersessionism and develops a working definition that enables us to discern the tensions in the writings of Thomas and to understand the rival assessments of his modern interpreters. Guided by his insightful commentary, we come to see a Thomas who is both a son of his own age and a rich resource for those of our own times seeking a Christian theology of Judaism that is faithful to the teaching of
Nostra Aetate
."
–Mark S. Kinzer, President emeritus, Messianic Jewish Theological Institute, Ann Arbor, MI
"Christians today often repudiate supersessionism, but they do not always carefully examine just what that is supposed to mean. We are in Tapie's debt for remedying this situation with special reference to the theology of Thomas Aquinas. Tapie's rich, thorough, and multidimensional picture of Aquinas's views on Jewish observance of the ceremonial law after Christ is destined to become a landmark."
–R. Kendall Soulen, Professor of Systematic Theology, Wesley Theological Seminary, Washington, DC
"Tapie has provided a definitive study on Aquinas's complex and at times contradictory reading of Paul as supersessionist or not. In the process, Tapie offers the clearest teaching I have seen on the meaning of supersessionism in modern scholarship, from Isaac to Wyschogrod,
Nostra Aetate
, Levering, Soulen, and much more. Without covering over ambiguities (in) Romans, Galatians, Ephesians, and Hebrews, he concludes with a sober yet hopeful account of the trajectory of Thomas's thinking–an account that should contribute significantly to contemporary discussions of Judaism and the church."
–Peter Ochs, Edgar M. Bronfman Professor of Modern Judaic Studies, University of Virginia, Charlottesville, VA
"The drafters of
Nostra Aetate
, the 1965 Vatican II document that revolutionized Catholic teaching on the Jews, felt they had to go all the way back to Scripture to find resources for rethinking theological anti-Judaism, so soundly rooted did it seem in the church's tradition. Tapie shows that they missed more proximate sources in St. Thomas Aquinas, among the most revered authorities in Catholicism. The perspectives Tapie has opened are a landmark contribution to the difficult work of reconciliation between Christians and Jews."
–John Connelly, professor, University of California at Berkeley, Berkeley, CA
Matthew Anthony Tapie is Visiting Assistant Professor of Theology at The Catholic University of America, Washington, DC.