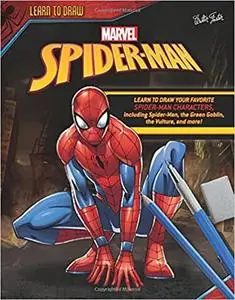 Walter Foster Creative Team, "Learn to Draw Marvel Spider-Man: Learn to draw your favorite Spider-Man characters, including Spider-Man"
English | 2017 | ISBN: 1633222616 | 144 pages | PDF (scan) | 144.7 MB
Learn to Draw Marvel Spider-Man is the ultimate guide to drawing everyone's favorite web slinger! The step-by-step instructions in this 128-page book will have you drawing Spidey and your other favorite characters in no time.
With his spider powers and high-flying acrobatics, Spider-Man is one of the most famous and lasting Super Heroes of all time! In Learn to Draw Marvel Spider-Man, Marvel artist Cory Hamscher provides step-by-step instructions on how to draw not only Spider-Man, but the many villains Spider-Man has come up against over the years. You'll get professional-quality lessons on how to draw Spider-Man (in seven different poses), the Green Goblin, Doctor Octopus, Lizard, Venom, the Vulture, and Rhino.
Learn to Draw Marvel Spider-Man helps both beginning and advanced artists develop their skills by taking them through each drawing step-by-step. You will see every part of the artistic process, from beginning sketches to the finished color product. This drawing guide even comes with bonus character descriptions do you can get to know the rich backstory of every character. All you need is some drawing paper, drawing pencils, an eraser, and a copy ofLearn to Draw Marvel Spider-Manto get started!