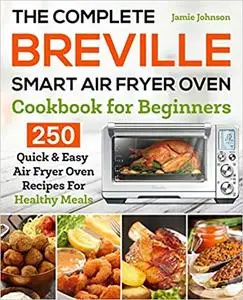 Jamie Johnson, "The Complete Breville Smart Air Fryer Oven Cookbook for Beginners: 250 Quick & Easy Air Fryer Oven Recipes for Healthy Meals"
English | 2019 | ISBN: 1653115548 | 98 pages | EPUB | 0.34 MB
Easy-to-Prepare Air Fryer Recipes for Your Breville Smart Oven!
Enjoy Healthy AirFried meals in just a few knob twists!
Do you want delicious, yet healthy fried foods? Take pleasure in cooking crunchy favorites shared with your loved ones!
This complete air fryer cookbook, has the following categories:
Tons of Appetizers & Side Dishes
Lots of Poultry and Red Meat recipes
Great variety of Vegetarian and Vegan meals
Fish & Seafood choices
Tasty Breakfasts & Effortless Desserts
This complete Breville cookbook will become your cooking guide for easy, crunchy and crispy experience with your smart air fryer oven!